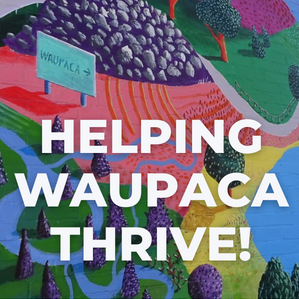 What makes Waupaca a special place to live, work and play? The answer can be found in its people, working together to bring this already thriving community to a whole new level of cultural attractiveness. In this episode, we hear from people making a big impact thanks to generous donors.
The Waupaca Area Community Foundation recently awarded grants totaling a record $170,822 to 18 area nonprofit organizations from the Waupaca Area Community Foundation Fund to help enhance the quality of life in the greater Waupaca area. The grants included two significant grants from its Community Enhancement Grant category:
The Waupaca Area Chamber Foundation received $25,000 to develop a marketing campaign highlighting Waupaca's economic, cultural, and recreational assets with the goal of attracting newcomers to the greater Waupaca area.
And the Waupaca Community Arts Board received $25,000 to expand the Waupaca Community Arts Hub by building staff capacity, increasing outreach programs, and adding equipment. Research shows arts-rich communities stimulate innovative thinking, recruit and retain residents, drive tourism and create an economic engine.
More links here at  https://www.cffoxvalley.org/podcast/helping-waupaca-thrive/